Frequent Asked Questions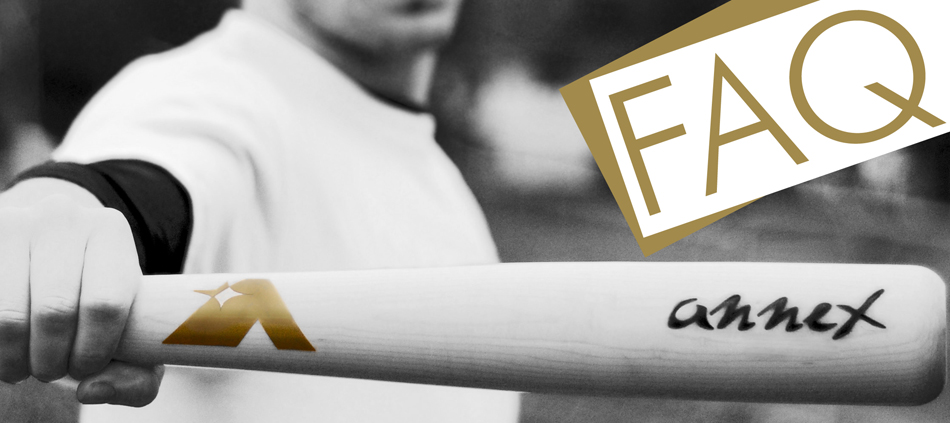 Q: What is that cup in the end of the baseball bat barrel?
A:
A baseball cup is a bowl like shape that is cut out of the end of the barrel of a wood baseball bat. Cupping the end of the barrel makes a wood bat
more evenly balanced, by shifting the center of mass towards the handle slightly.
Q: Where do you hit a baseball on a maple baseball bat?
A:
Research has found Sugar Maple to be 10% harder, stiffer, and stronger than White Ash. Recent changes increased its safety factor in reference to
maple bat breakage. Those changes include enhancing the initial selection process, and rotating the hitting surface of the wooden maple bats
(the grain of the wood) by 90 degrees. In doing so, the contact point for a maple bat is the face grain instead of the edge grain. It has been suggested
that the new orientation is a much stronger position, proper for this sugar maple species. Players are still instructed to swing a wooden baseball bat with
the label up. We now put our logo on the edge gain of our new manufactured maple bats. Please remember to always make contact with your maple bat
on the face grain (label up), it will make your bat less likely to break. Hitting on the face grain is the more natural, and less detrimental/stress way of
making contact with maple bats. Since this change has been implemented in the MLB, maple bats breaking have gone down considerably.
Please see the attached link for Where/how to hit a maple bat.
http://annexbaseballblog.com/archives/265
Q: Do you offer team Annex wood bat discounts?
A:
Yes, we offer team and league discounts. Please email us for inquires on our current team and league discounts.
Q: Are your bats Professional quality?
Yes, we offer professional quality wood bats, but do not sell to the MLB at this time. Due to large fee's we would have to pay to the MLB organization
to have our bat used. Instead you get our all of our professional quality bats, giving us an edge on our competitors.
Q: What size bat should I chose for my son/daughter?
A:
Please see the attached link for our
Adult/Youth wood bat guide
.
You can also send us and email at
info@annexbaseball.com
, to tell us the the persons height, weight, age and we can give you our recommendation.
Q: What does -2oz or -3oz actually mean?
A:
A -2, -3 weight drop is the difference between the length of the bat and the weight. For example, if you have a 33" wood bat and the weight is -2 oz,
subtract them (33 - 2) and you get a 31oz wood bat. Most leagues have bat weight limits. Fun fact: A lighter wood bat does not necessarily equate a better bat.
Actually, the heavier and denser the wood, the more strength, durability, and pop it will have. If you can learn to swing a heavier wood bat, it will benefit you
in many ways. One being the long ball.
Q: Do you have a warranty?
A:
Every Annex wood baseball bat is processed foremost with our 'hands and eyes' and our quality assurance procedures for any imperfections before it leaves
our facility. Due to the nature of the sport, we do not have a warranty on our wood bats. However, if you receive your Annex wood bat damaged by transit.
Please contact us the day of arrival so we can replace your bat. If you do not contact us immediately, we may not be able to replace your bat.
Q: Do you offer Blem Bats at a reduced cost?
A
: Yes, we sell Annex Blem Bats for a reduced price.
These bats did not pass our inspection to be a Professionally quality bat, however work great for Amateur Baseball leagues and under.
Blemishes include:
Slightly off desired weights
Knots, pin knots, color defects
If you are interested in a blem bat, please email us about availability and we can set an order up for you.
Q: What is your turn around time?

A:
-In-stock/On shelf items ship next business day Priority Mail, and will arrive in 2-3 business days.
-If not in-stock, bat must be turned, please allow 7-10 business days for delivery.
We ask if you are putting in a large quantity order, that you put in your order 3-4 weeks in advance. To ensure they are shipped to your door by
the time you need them.
Q: What is your favorite model?
A:
Personally my favorite Annex Model is the traditional 271 wood bat. It is beautifully balanced and is for any type of hitter. I am not a homerun hitter by nature,
but I have had a good amount in my day with my AM271. So if the game is on the line and I am up to bat, there is not doubt in my mind, I will be walking up to
plate with AM271 in my hands.
Q: What type of Finishing do you offer?
A:
Full Dip
: The bat is completely coated in a lacquer finish which seals the grain and pores.
Half Dip
: Only the barrel is sealed, leaving the handle natural. Perfect for players who use pine tar or no batting gloves.
Natural
: No finish = bare wood. Natural wood will allow you to bone your bat if it ever receives dents. Boning your bat is when you use a hard object like a
piece of bone, to rub over your bat to smooth out any dents. Perfect for players who like pine tar when hitting. (most popular)(the bat may gain moisture
with constant humid environment)
Q: Do you ship to Hawaii or Alaska?
A:
Yes we do.
Q: Do you ship outside of the United States?
A:
At this time we do ship only to Canada. If you are from a another country and interested in an Annex Wood Bat, please email at
info@annexbaseball.com
and we can discuss further options.
Q: Your bats are awesome! How do you do it?
A:
We simply work hard at our craft and we love the game. Our team has spent countless hours designing, creating and testing our products to make what/where
Annex Bats are today. Every Annex Bat has a high quality of Hand Craftsmanship, Machine work, and Art built into it.